The origins of ULD CARE go back to the 1970s with the arrival of wide-bodied aircraft and the containerization of cargo into Unit Load Devices, which lead to the formation of the ULD user group within IATA. 
Over the years, membership of this group expanded to reach about 50 airlines. In 2009, the IULDUG was moved off the IATA mainframe onto a web server-based platform where it continues to operate today. At that same time, ULD CARE was formed to increase the participation of airlines in this group, as well as open membership to include other industry stakeholders. ULD CARE now represents approximately 50 airlines and a further 20-30 organizations having an interest in ULD activity, such as manufacturing, repair, rental or tracking solutions.
The software system processes interlining transactions from ULD CARE's member airlines on a daily basis and provides the members with the visibility of interlined units and the trusted calculations of demurrage receivable and payable, with airlines settling these amounts through the IATA clearing house.
Through the operation of the IULDUG system, ULD CARE has processed many millions of dollars of inter-airline demurrage charges. In years prior to COVID-19, the typical accumulated demurrage between all airline members of the IULDUG would be in the order of US$1.25 million per year.
ULD CARE has some of the greatest expertise in the establishment and operation of an effective system for managing the transfer of freight equipment assets as a result of the 50-years of experience running the IULDUG system.
About 10 years ago, ULD CARE recognized that the industry had changed dramatically since the introduction of ULD. A far greater number of ULD transfers now took place between airlines and third-party off airport operators, such as freight forwarders. Taking the initiative, ULD CARE launched a study into how to adapt to this new operational reality and made a number of recommendations to the IATA ULD Board, which led to the establishment of the XML version of the standard IATA LUC and MUC8 message formats. However, nothing was implemented for the industry from this initiative and the status quo remains.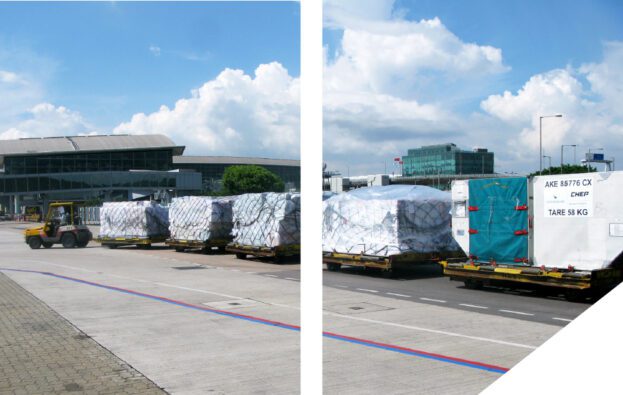 ---
8 LUC and MUC are acronyms for EDI messages relating to transfers of ULD between parties